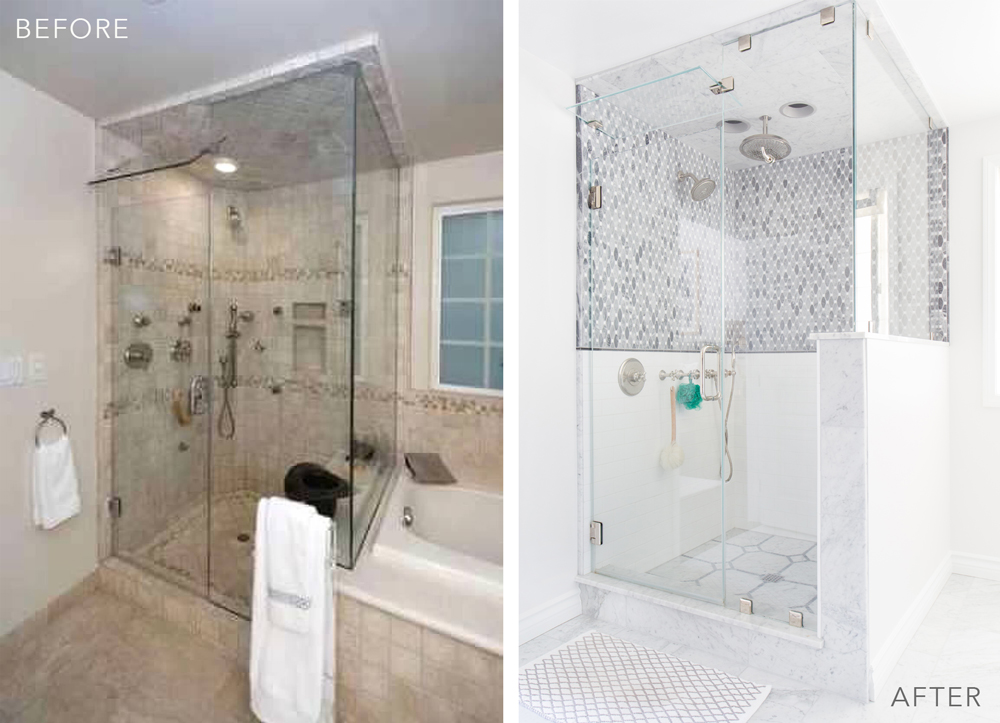 Photographs by Tessa Neustadt Courtesy Homepolish
Dear Home Renovation Lovers,
One of my favorite projects was covered in some of my favorite publications (Architectural Digest and Homepolish Magazine!). But what you might not have seen in these publications is the SUPER DRAMATIC transformation this house underwent. I have to admit, Donnie and Ryan (the adorable couple featured above) had a great contractor who did the lion's share of the work. But I was around to wave my Homepolish magic wand, making final decisions on finishes, wall-color, and obviously, furniture. Below is a mouth-watering collection of before and after pictures that will make you so happy to be alive.
Before, this living room was kinda crazayzay. I mean, normally I'm all for keeping spaces as open and free as possible, but the opening between the two rooms made them hard to layout and organize. Closing up the wall left us with the opportunity to create a cozy sitting space.
Donnie had this cute little navy blue sofa from a former apartment, along with the coffee table. The prints above the sofa are from Minted (as is much of the art in the home). This particular print is actually the same one repeated three times but rotated so it looks like three different prints. I did this because I loved the piece and I wanted to repeat a dot motif on that wall. The wall color in here is Dunn-Edwards Enchanting Ivy.
The accessories in the sitting room are mostly from flea markets. Donnie and Ryan are very close with their families and have family photos everywhere. Which made this room feel particularly cozy and homey. The redwood photograph by Kamala Nahas above the fireplace is a breath of fresh air and speaks to the forest green color palette in the room, which speaks to me, and now I'm speaking to you.
The powder room got a snazzy transformation with a custom vanity and THE WORLD'S MOST AMAZING WALLPAPER. I didn't want to leave the vanity out of the fun, so I gave her a gorgeous accent color, Parisian Night from Dunn-Edwards.
Because the wallpaper has such a vintage vibe, I decided to add a modern twist to keep the whole space from feeling too old-timey. This gorgeous abstract print by Juniper Briggs did the trick. AND SO CAN YOU!
The formerly beige shower got a much-needed marble makeover.
The living room is my favorite part of this house. Previously, it was a muddy beige color (Also, somewhere an elephant is wandering around looking for his tusks. Not cool). The pretty light grey color used throughout much of the house is Dunn-Edwards Vapor. It's so soft and beautiful. Like you. The sofa is from Restoration Hardware and the coffee table and console are from HD Buttercup.
We had beautiful custom drapery made by The Shade Shoppe and added a preppy stripe to make us feel like we'd been magically transported to a lovely Cape Cod cottage.
This beautiful print by Stephanie Nowotarski adds a little edge to this otherwise classic and cozy living room.
I kinda went crazy buying flowering branches at the Downtown LA flower market. If you're ever trying to spruce up your home for guests or want your home to look particularly polished, adding branches will always do the trick. Branches are a surefire way to make people think you're way more important than you actually are.
Accessories are a collection of stuff Donnie and Ryan already had, accented with vintage pieces and things I found at West Elm.
Anna Ullman, one of my favorite LA artists, created these incredible mono prints, which were the inspiration for the living room's accent color.
Here's the other one. I love it so much. I wish I were sitting on those little stools right now, staring at it.
These ceramic tower lamps from Wisteria add the perfect pop to this neutral wonderland.
Don't you just want to smash your face into that sofa and scream into its down cushions about how much you love it?
The bedroom previously had a very contemporary vibe, with an open closet behind the bed. Closing off the wall and adding wood paneling to the ceiling gave the space a much stronger sense of architectural importance.
The bedroom also received custom drapery from The Shade Shoppe, as well as this gorgeous rug from Pottery Barn. My favorite thing in the room is this AMAZING CROCODILE from Mix Furniture. We wanted something sculptural and interesting to make the space feel as cool as my clients, and I think this guy fits the bill.
The striped linen duvet cover is one of the best things I've ever seen in my life and I'm so happy they have it. The bird pillows are vintage West Elm, from a photo shoot I did a few years ago. They're exactly the right amount of dreamy.
The crescent window above the french doors provided a bit of a window treatment design challenge, so we had custom shutters made to block the bright sunshine.
The previously-contemporary fireplace got a traditionally-inspired makeover, accented by one of my favorite things on earth: BUILT-IN SHELVING. I accessorized the shelves with their collection of books and photographs, adding in my own flea market finds.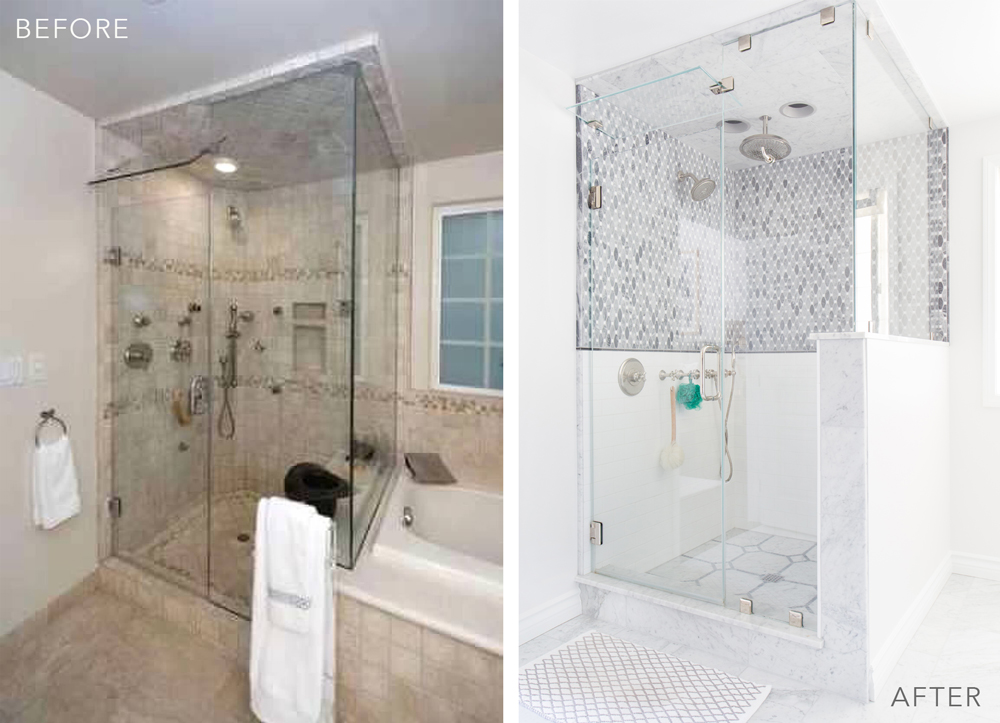 The beige-on-beige-on-brown-on-beige bathroom got a spectacular marble update. The whole space feels so much brighter and cleaner now.
The Matthew Sampson print adds come color and serenity to the already-soothing bathroom. Even just looking at it now makes me want to fall asleep. In a good way.
The upstairs guest bath got a sophisticated update, with a new custom vanity and marble tile throughout. We also added wood panel detailing to the walls to give it some architectural interest while keeping it white and minimal.
Kitchen styles go in and out, but one thing that seems to be classic is simple white cabinetry. Throughout the kitchen we added gray Caesarstone and white custom cabinetry. The island got a special accent color (Dunn-Edwards Porpoise) and marble countertop.
A little breakfast nook provides their dog with a cute place to relax whilst drinking a whole bottle of rosé alone, an activity I do most Monday mornings.
The backsplash tiles, which are from Atlas, add a subtle color that brings in some warmth while allowing the kitchen to stay soothing and neutral.
In Ryan's office, we created a large-scale custom wallpaper by enlarging a photograph taken by one of his friends. It gives the otherwise gentlemanly, traditional space a bit of movement and frivolity.
We're still working on the dining room, so we don't have a lot of photos of it yet. But we did manage to install the world's most lovely indigo grasscloth in there. It's the kind of wall covering you just want to hug and squeeze forever.
Artwork by my friend Erika Gragg adds some color and cheer to the entry space. If you need more cheer, you can see more of this project on Homepolish Magazine. Check it out!
Love,
Orlando