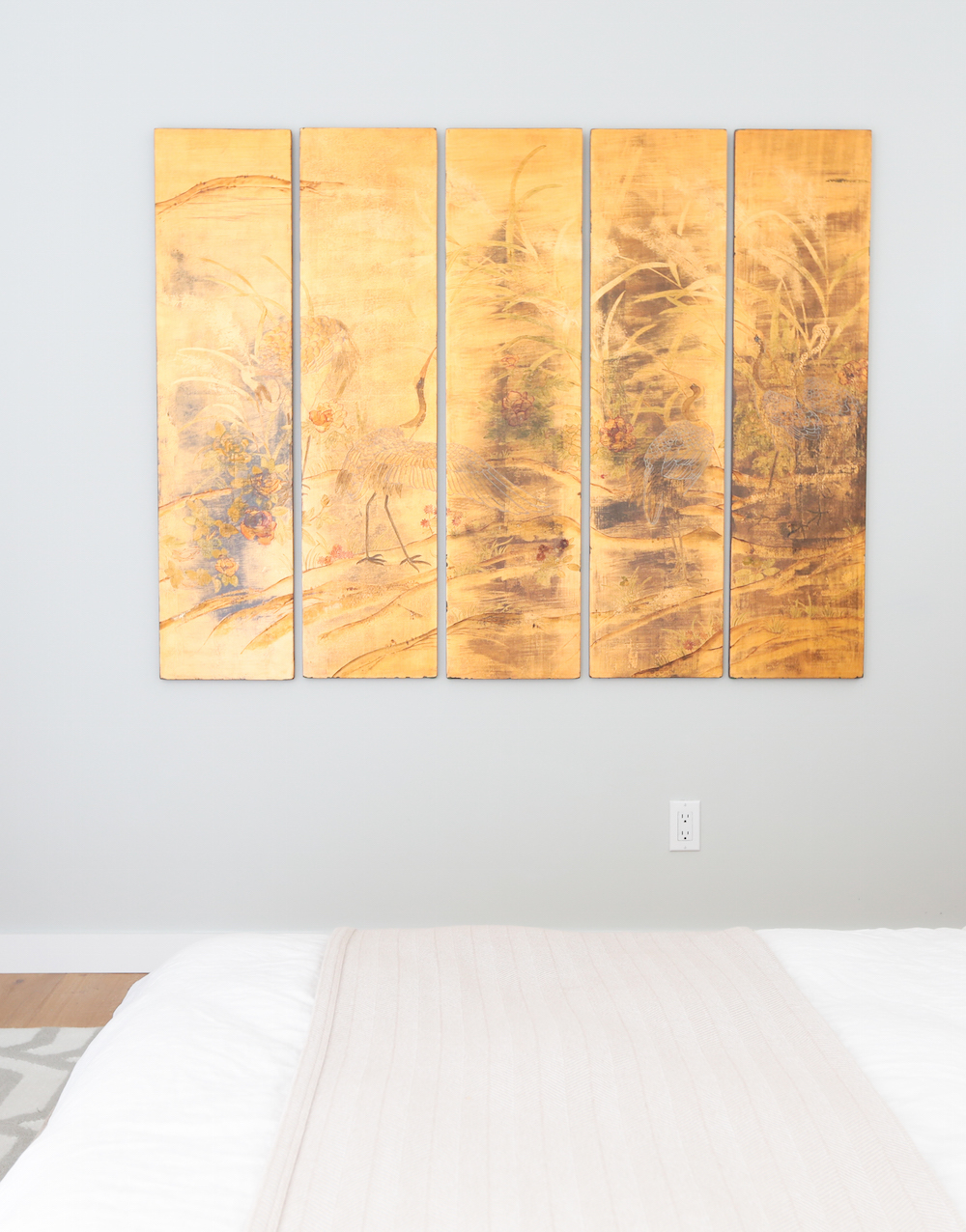 Dear Sleep Lovers,
I recently teamed up with Cocoon by Sealy to spruce up my guest bedroom as part of their "My Happy Place" campaign. The timing was perfect, because I'm getting ready to (finally) do the full reveal of the Orcondo renovation and the guest bedroom was the one room that still felt lacking in polish. As a reminder, this is what the glamorous (and super comfy) mattresses that sparked the whole makeover look like:
The master bedroom at my condo is pretty dark and romantic (that's a designer way of saying it get's like no natural light). The guest bedroom, however, is bright and open. So I took inspiration from a few recent projects that featured bedrooms illuminated with tons of natural light.
INSPIRATION
This bedroom, which I designed for a Homepolish client in San Clemente, has pretty views of the beach and delicious, buttery West Coast sunsets.
This guest bedroom has the combo of simple minimalism and inviting coziness that I wanted my guest bedroom to have.
And finally, I'm obsessed with this bedroom at my clients' Hollywood Hills home. It's a pretty simple room, but the art, textiles, and lighting make it feel so personal and custom. I wanted my guest bedroom to feel like this.
I got this gorgeous photograph by Matin Zad from Tappan Collective a few years ago and I've been enchanted with it ever since. This image was the jumping off point for my design plan for the guest bedroom. I wanted the mood of the space to feel exactly like the photograph, totally peaceful, elegant, and cozy.
Spoiler alert! The photo ended up being hung above the bed! Luckily, it's framed in a pretty lightweight frame, with plexi glass instead of heavy real glass. So it won't decapitate my guests if it falls on their necks during an earthquake. I always tell people who live in California to be careful about what they hang over their beds. If it can cut you in half, don't hang it there (i.e. don't hang swords over your bed, k?).
COLOR PALETTE
I kept the color palette minimal and warm. The wall color is Sleigh Bells by Benjamin Moore, the trim is White by Dunn Edwards. I added in gold, sandy beige, and ivory in the art and bedding. I'm not normally so attracted to neutrals, but I wanted the room to feel quiet and comforting. Sometimes, part of good design is knowing when to stop. When you have enough color and visual interest. That moment came for me when I hung this gorgeous set of Japanese panels and knew that I wanted them to be my pop of color:
I found this piece at the flea market and couldn't resist it. It's definitely aged and some of the cranes on it look like ghosts, but it's so beautifully painted and the metallic adds a nice formality to the room. Because the condo was completely renovated and so much of the furniture is brand new, it was important to bring in some pieces that were more weathered and touched by time. After all, this is supposed to be a Happy Place, and vintage stuff makes me happy.
I keep a crate full of extra bedding and pillows next to the desk so my guests will never feel cold, alone, and unloved. Like I did for the entirety of junior high. Naturally, this crate has become one of my obsessions and I often find myself going into the guest bedroom just to check on whether it's still perfectly styled or not (if you take one pillow out, the whole thing is destroyed and life starts to feel chaotic and out of control).
I'm constantly switching out pillows and accessories so I won't get bored with my space. So sometimes I'll put the pillow and throws that normally are in my bedroom in the guest bedroom. It's amazing how tiny things like this can change the vibe completely. Also, I'm a crazy person and maybe I have too much free time.
To continue with the My Happy Place theme, I even put a large-scale print from Minted in the closet. There isn't a ton of room in there, so I wanted to make it feel more peaceful by hanging this calming piece.
One of the biggest improvements in my Cocoon by Sealy-inspired makeover (aside from the fun new mattress, obviez) was the closet makeover that finally gives guests the ability to stow their luggage in the closet instead of throwing it all over the floor like animals. Not sure if this improvement was more for me or my guests.
Making a Happy Place that is cozy and inviting for guests means showing them you care. This is why I always leave out a little carafe and a note about where to find water (we have a little water filter next to the tap). Small gestures can make your guest feel totally welcome. If you don't do things like this for your guests, they may act out by standing over your bed, watching you as you sleep, cursing you with ancient witch spells.
I'm very happy about the guest bedroom turned out. Sometimes, when I go in there I get mad that it's not my bedroom. Working with Cocoon by Sealy to transform it from SNAGGLE TOOTH to SNUGGLE ME has a true delight. And I can't wait to share more of Orcondo in the next few weeks as we finally reveal its mega makeover!
If you'd like to do your own My Happy Place makeover, Cocoon by Sealy is offering my readers a $50 cash gift card with purchase when you enter the code STYLEMAKER50 at checkout. The code will be effective starting May 12, 2016 and all purchases with the code must be made by May 31, 2016. So if you entered our giveaway and didn't win, think of this as your second chance to get something for free (congrats to winners Cece and Andrew, btw!). Happy bedroom designing, people!
Love,
Orlando
Resources: Cocoon by Sealy Soft Mattress, Blu Dot "Dodu" Platform Bed from AllModern, White Linen Duvet Cover from Parachute, Herringbone Blanket from Serena & Lily, Bath Robes from the Ace Hotel Gift Shop, Gymnasia Candle from Scenthouse, Grey Rug from RugsUSA, Custom Light Fixture by Park Studio, Matin Zad Print from Tappan Collective, Breath Print from Minted, Side Tables from Wertz Brothers, and Ikea Rast Dressers.
This post is sponsored by Tempur Sealy. All opinions are my own.