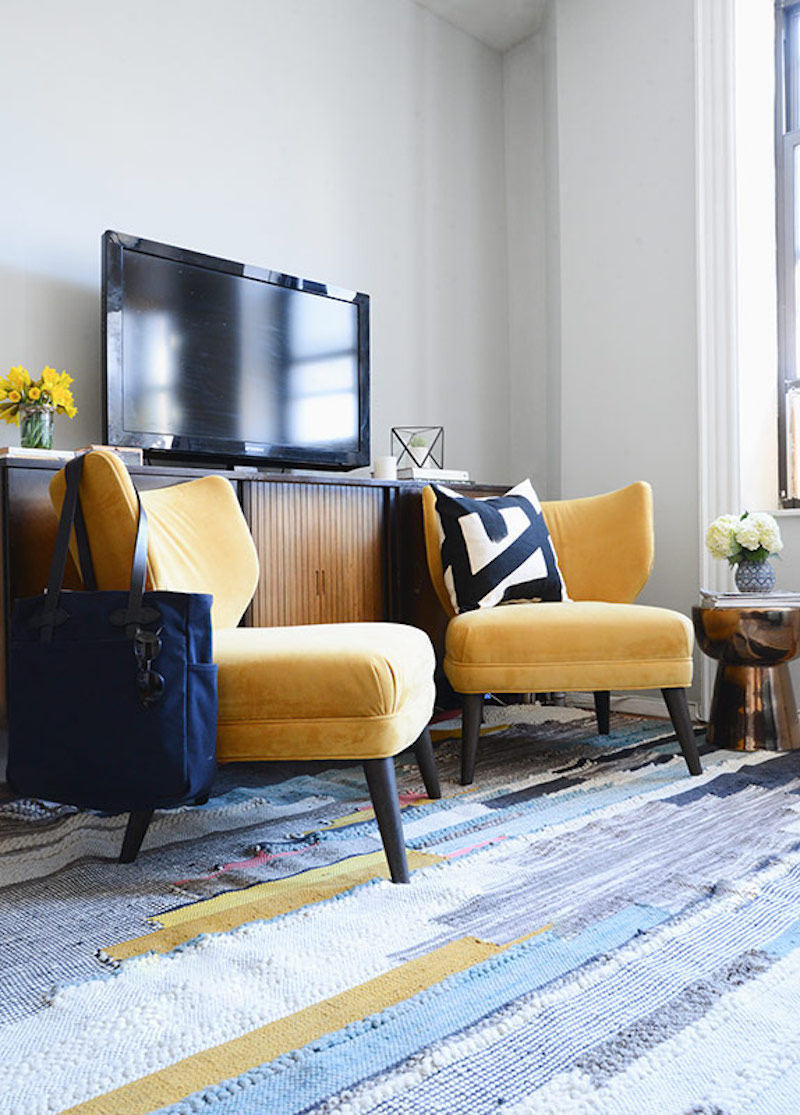 Photographs by Claire Esparros Courtesy Homepolish
Dear Mary-Kate and Ashley Olsen,
One of my favorite parts of my jobs is meeting creative people and asking them endless questions about how they work, what they do all day, and what types of foods are there favorites. I'm kind of like a third grader in that respect. I could literally ask people "what's your favorite color?" all day and be perfectly content. Justin Livingston, whose blog Scout Sixteen has been one my favorites for years, is one of those creatives I've been lucky enough to meet. So I was stoked that he hooked up with West Elm to makeover his East Village apartment and that reached out to me and Homepolish for some help designing his space.
I tend to be pretty conservative with using color on furniture, so my original design plan for Justin included a super sophisticated color palette of white, grey, and beige. This is not because I hate color, it's because I believe you should rely on art and accessories for most of your major color pops. Also, for New  York, where there's so much grey going on outdoors, I love keeping it sophisticated with black and white. Here's what Mood Board #1 looked like:
Justin and his roommates let me know they wanted more color, so the starting point of the revised, more colorful plan was this lovely Multi Pixel Woven Rug from West Elm. Here's what Mood Board #2 looked like:
See! Much more youthful! (Like Justin and his little baby roommates). He's like 26, which is crazy considering how well he's done with his blog business. Which would make me resent him if I didn't consider him my own beloved human baby. Speaking of beloved human babies, here's me, contemplating the beauty of the rug I chose:
I'm happy in this photo for so many reasons. A) Because I love the rug so much and B) Because I know that cord is going to be hidden by the sofa once it's moved into place. C) Because I snagged this amazing navy blouse and I bought it in like every color. It's totally not flattering but it's SO comfy and it makes me feel like a weirdo artist who hangs out at dungeon parties and does installation pieces made out of scrunchies and Philadelphia cream cheese containers. I have it in beige, black, and a few other depressing New York colors and I call them blouses because they are so billowy and soft and ridiculous that I feel like an eccentric old woman every time I wear them. AND LITERALLY WHO WOULDN'T WANNA FEEL LIKE AN ECCENTRIC OLD WOMAN??? For serious.
I forced Justin to help me move his furniture around, because you never truly value how gorgeous your home is until you've moved your furniture ten times into the EXACT PERFECT SPOT.
Look how deranged my face is here! Why am I acting so crazy, you ask? Well, I was losing my mind over the diptych by Shane Neufeld which we placed over the sofa. Justin hadn't seen it before it was delivered to his apartment, so the reveal was especially nervewracking and exciting for me (sidenote: I'm always secretly terrified that my clients are going to hate everything that I choose for them and will want to punch me in the face when I it to show them).
Don't you want to punch him in the face? He always looks cute and put together. Which was annoying for me because whenever I visit New York I look like a Raggedy Andy doll put in a blender on HIGH. I was there during the coldest of winter weather so I was constantly blowing my nose and acting like the apocalypse was happening while everyone else acted like dignified ladies on 'Downton Abbey' drinking tea, talking about poor people.
Just FYI those sock glow in the dark and every time I am reminded of that it's my favorite fact about the universe.
This mid-century inspired sofa was a lovely departure from Justin's lumpy old one. A fun fact about sofas is that if you want one that looks taught and tailored all the time (like this one) choose cushions with mostly foam and not a lot of down wrapping. If you want something comfy and cozy (but that you have to constantly fluff so it doesn't look slouchy) choose something with a significant down wrapping. Mostly-foam cushions are good for places like Justin's where there are several roommates using the same sofa and the likelihood that someone is going to fluff the pillows every time they sit down is relatively low. I have super cozy down wrapped cushions on my sofa and I am CONSTANTLY fluffing them so they don't look like rotting peaches on a hot day.
Me, lost in thought, wondering if this pillow has a mom and what she's like.
When you're lugging furniture around, it's best to smile. This tricks both you and your client into thinking you're happy, which lulls them into a sense of comfort , making them much likelier to buy all the things you want them to buy to make their space as beautiful as it needs to be. Interior design is more about psychological warfare than anything else.
THAT PAINTING AND THE THAT RUG WERE TOTALLY SEPARATED AT BIRTH. They love each other!
If I ever give birth to a baby, I hope it looks something like this cute little metallic accent table.
Fun tip: You can buy these yellow forsythia branches at Trader Joe's right now! Hurry!
Justin had these little elephants (along with a ton of other cute vintage accessories) which he bought at a flea market in Paris (where I just went for the first time, LITERALLY OH MY GOD). We bought the succulents at a little nursery near Justin's place together. It pained me to make him buy them, because they were ten times more expensive than they would have been in LA. Let this be a lesson to all of us that living in New York is expensive and terrible and, FINE, totally worth it.
We kept the simple modern bookcases the same, but changed their styling from garbagey to gorgeous by adding some storage baskets for all Justin's camera equipment/cords/etc and getting rid of a lot that really needed to be gotten rid of.
Just me hanging out, doing my best Martha impression. How terrifying is that deer? I kept expecting him to come to life and punish all of us for cutting his head off and sticking it on the wall. In my defense, Mr Deer, you were just sitting on top of Justin's fridge collecting dust and I thought it made much more sense to give you the respect you deserved by putting you on the wall. PLEASE DON'T COME BACK TO HAUNT ME, HOVERING OVER MY HEAD WHILE I SLEEP AND WAITING FOR ME TO WAKE UP TO SHOOT RED LAZERBEAMS OUT YOUR EYEBALLS INTO MINE, BLINDING ME FOREVER.
I tried this throw out on the cute little accent chairs we had, but decided it was too much color at once and removed it. Sometimes, if a color wants to be a star (like this yellow does) you have to let it. If you try to add a co-star to the mix it could backfire and look like catsup and mustard and make your whole living room look like a hot dog.
This little piggy, which was a gift from Justin's grandmother, is my favorite thing on earth. It's disgusting, but like in a good way.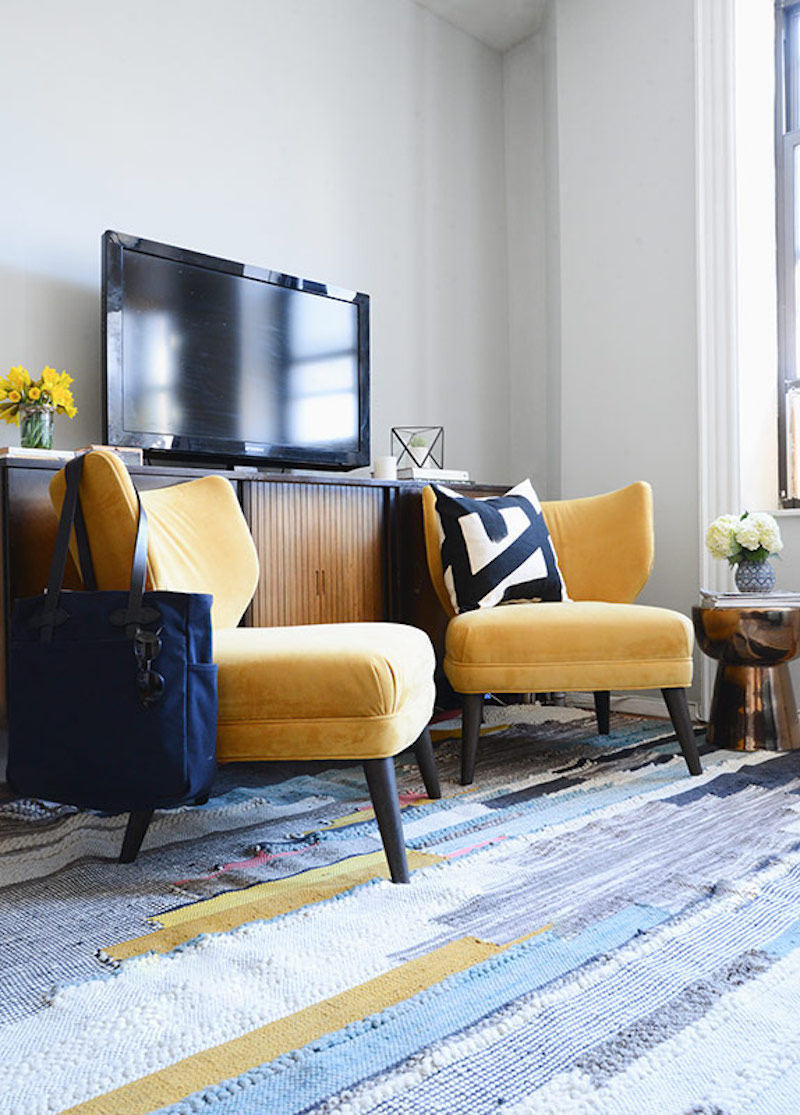 As I said before, Justin's place is tight, so we chose these retro wingback chairs to sit opposite the sofa. I love these because they totally look like something I'd see/want at a flea market but I didn't have to bother with having them upholstered.
Part of me wishes that every book I owned was written by the Olsen twins.
I remember being astounded when I met Justin in person for the first time a few years ago. For some reason I'd expected him to be a pocket gay, so when he turned out to be a full-grown, I was totally shocked. He's like, pretty much the same height as me. AND I'M A HUGE MAN. JK, but unlike a lot of people from the internet, I'm a pretty normal height (5′ 11″). I won't fit in your pocket. I used to come to LA a lot in high school and we'd see celebrities and I was always mesmerized at how miniature they were. Like Jennifer Lopez, she's literally the size of a Pez dispenser. I mean, there's actually no scientific evidence that she's not a Pez dispenser. Anyway, in addition to being a fully grown human man, Justin is also a dream to work with and we had a disgusting amount of fun with Claire (my Homepolish homie/photographer) dancing our faces off and making mega inappropriate jokes. Ugh, if only I could turn back time to this shoot, I'd do it all again in a second. DELIVER ME TO TWO WEEKS AGO.
Love,
Orlando
Resources: Peggy Sofa 79.5″ in Heathered Crosshatch Feather Grey $1199, Multi Pixel Rug $899, Retro Wing Chair in Goldengate Performance Velvet $399, Mid-Century Overarching Sconces $279, Box Frame Coffee Table Whitewashed Mango Narrow $349, Ceramic Side Table Burnt Gold $149, Perfect Throw Bisque Pink $29, Vittsjo Bookcase $79, Storage Baskets $17.95, Diptych Painting by Shane Neufeld $4500.
This is not a sponsored post, but Justin's apartment makeover was completed in conjunction with West Elm, who provided a large portion of the furnishings free of charge.