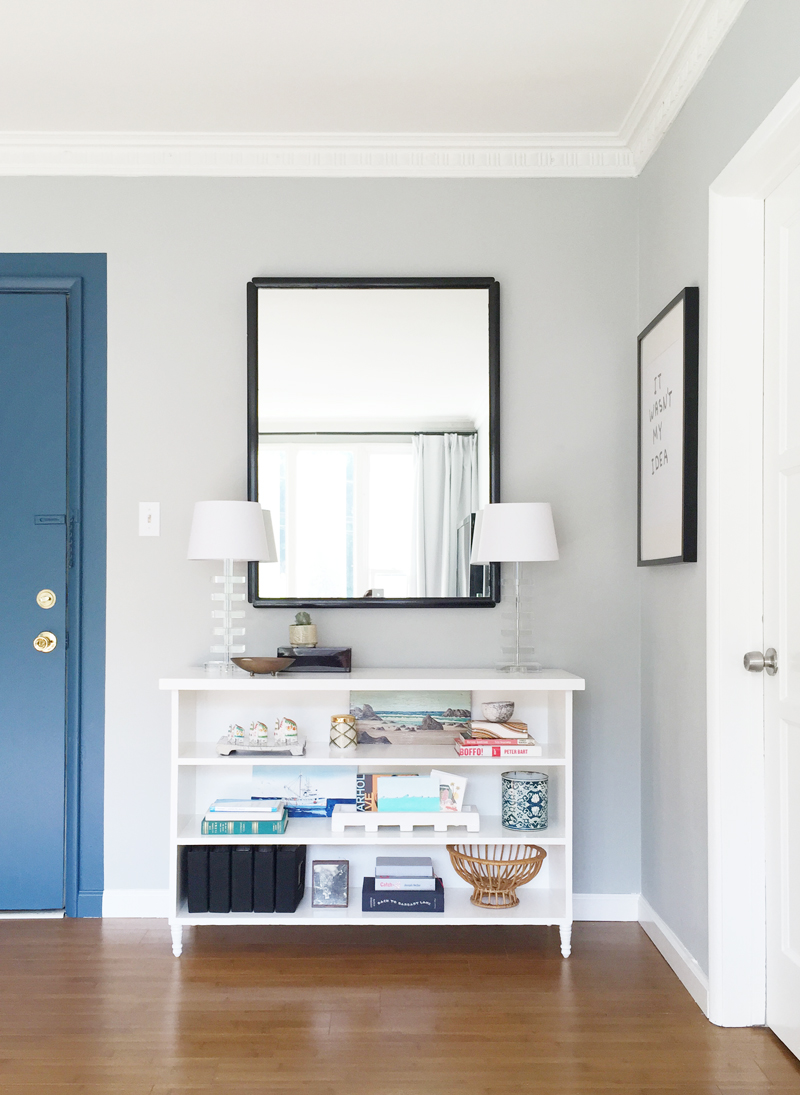 Dear Non-Garbage Person,
The other day I was in St Vincent De Paul Thrift Store near Downtown LA and I came across a deal too good to pass up. They were selling these lovely little library bookcases for $15. Naturally, I was all "Oh my god I need one!" Which I say sometimes. Usually when I totally do not need one. If you've ever been in St Vincent's you know how dirty and disgusting it is. It's like jumping into a giant landfill. But filthier. But you find gems there from time to time so it's worth it. The hunt is half the fun.
Anyway, I got my little bookcase home and was so inspired by it's garbageness that I decided to challenge myself to make an entire vignette in my house out of garbage (some of you may have seen this on my Instagram feed). It was a heartwarming experience so I thought I'd share it with you today.
Here's what the little bookcase looked like before:
The bookcase was actually super cute and reminded me of the bookcases in the library at the grammar school I attended in Yosemite (Check it out! It's literally the most adorable school in the world). However, as cute as they were, the bookcases didn't really make sense in my apartment because I don't live in an adorable grammar school in a national park. So I decided to paint the bookcases white and forget about everything that came before.
By now your brain has probably exploded from how different it looks. But don't be scared. Here's what to do to transform your own garbage bookcase:
1. Sand/Add Legs. 
I sanded the bookcase with a light grain and added some legs I found at the hardware store:
I bought mine at Koontz Hardware in West Hollywood but you can also get them online from Home Depot. I pre-drilled holes in the bottom of the bookcase and then used wood glue to adhere them. I let it dry all day so they'd be super sturdy by the time I flipped it over.
2. Paint with Semi-Gloss.
I used Benjamin Moore Cloud White (semi gloss). It looks a lot more beige here than it does in real life. I love that it's a nice warm white but not dingy like Swiss Coffee or some of those other classic whites. If you're going to paint garbage, you have to paint it a nice clean color so it doesn't look overly garbagey. Like your mom.
4. I let it dry overnight then powder it like a baby with talcum powder.
I know this sounds crazy and insane but it totally works if you're painting something white. It keeps all the items you place on the shelf from sticking to it and ripping off the paint. It can take a really long time for semi-gloss house paint to totally cure, so the talcum powder just keeps it from being too sticky while it's getting fully set. Also it makes your furniture look dry, pasty and pallid, like a member of the British Parliament. This really only works with white shades of paint unfortunately.
5. Style with garbage.
I finished the whole thing off by using garbage I've collected over the years to fill the bookcase to the brim. A full list of resources is below.
Thanks for stopping by my garbage home! Good luck collecting your own garbage!
Love,
A Garbageperson
PS: Resources!
Mirror from Goodwill (repainted on this previous Hommemaker post) $17.99, Lamps from the actual garbage with replacement lampshades from Target $9.99, Cactus in a pot from the a bargain bin at a Suzanne French Pottery sale $10, Jonathan Adler Lacquer box from Goodwill $4.99, Low Brass Bowl from Out of the Closet $5.99, Top shelf: Raku pottery platter I made at art summer school when I was 16, Set of three Tibetan hand-painted elephants I've had since childhood, Gold-topped candle container I cleaned out after I used the candle but have no idea what company it came from because it's from two years ago, Seascape from the Rose Bowl Flea Market $20, Books I had lying around, Raku bowl I made at art summer school when I was 16, Oh my god are you still reading these resources they're getting so boring and long-winded why did I decide to do this?, Middle shelf: Books and a watercolor painting I bought for $5 at Rose Bowl, A weird white wooden tray thing I made when I was 13, Greeting cards, A blue and white tin container I stole from Emily, Bottom shelf: black photo albums from college, A photo of a cat my dad took, more books, and a wicker basket I bought at Goodwill for $4.99.