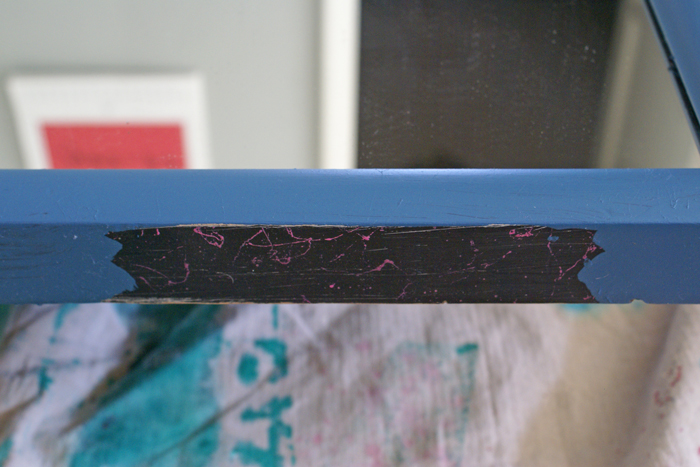 Photos By Erika Gragg
Dear You,
Are you ever sitting at home, wishing that a stranger on the internet would tell you how to do something you already know how to do? Well you're in luck, because today I am going to show you how to paint a frame. It's an activity that's so easy that a goldfish with no fins, tail, or eyeballs could do it. Here's what you do:
1. Go to Goodwill, Out of the Closet, or another thrift store and buy an ugly splatter painted mirror. Make sure that although the paint is ugly, it is of good quality (solid wood) and well-built.
2. Go to the Koontz Hardware and buy this product. Or buy it on the internet or whatever:
3. Get yourself some gorgeous blue tape (to match my deep, oceanic eyes):
4. And a paintbrush. And sandpaper. And an Exacto knife.
5. Using a fine grain sandpaper, sand the frame lightly, so that the new paint will stick (there's no picture of this because it's way too boring).
6. Tape off the mirror so you don't waggle your paint all over everything like a fool. You may notice that the mirror suddenly changed color to blue in the image below. That's because I painted it blue before realizing that was a totally stupid idea and that I was a stupid dumb idiot for doing so. Tip: don't paint your chic 80s Kelly Wearstler mirror country blue. Duh.
7. Use your Exacto knife to make sure the corners are taped perfectly. If you don't do something perfectly, you may as well not do it all. You may as well just sit there eating a jar of peanut butter. Alone. On the sofa. By yourself.
8. Paint the frame whilst thinking about those delicious cookies your grandma used to make. Remember, you must think positive thoughts while painting. Otherwise you fill whatever you're painting with your inner demons and the painted item is cursed. Forever.
9. Flip your hair and keep painting, thinking about how fulfilling this activity is and how happy you will be to have a glamorous, high-gloss black mirror.
10. Allow the paint to dry overnight. While you wait, dream of how gorgeous it's going to be, how different your life will be now that you have a glamorous mirror to stare at, how nothing can stop you now. Then, rip off the tape while yelling things about how gross Ann Coulter is and how ashamed you are that she went to the same stupid college you went to.
11. Admire how shiny and lovely the paint is (seriously, I'm kind of impressed by this high-gloss product).
12. Hang your mirror in a place that needs something big and reflective. A bathroom is an idea place because then you can also use the mirror to look at yourself when you're getting ready in the morning, wondering how many new ugly 80s mirrors you will find that day.
So there you have it. How to paint a mirror. Now go out and paint something before the endoftimez. Hurry!
Love,
Orlando
All photos by Erika Gragg.