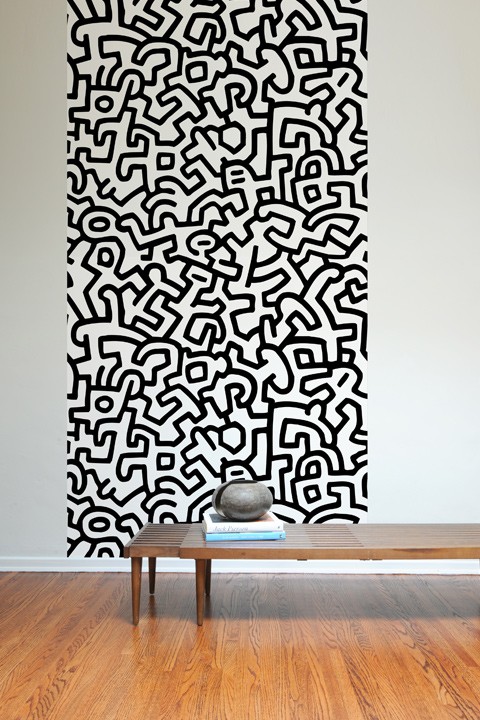 Dear Empty Walls,
Are you ever sitting there all like "Oh my god I'm naked I wish someone would put a sticker on me"? And then you look around and all the wall decals out there are, like, totally gross? Well, I have found a solution to your nakedness. There a few wall stickers out there that will cover you in beauty and glamour. For the most part wall stickers are cheesy and gross and look like they belong in college dorms. But don't lose hope! A few sophisticated options do exist…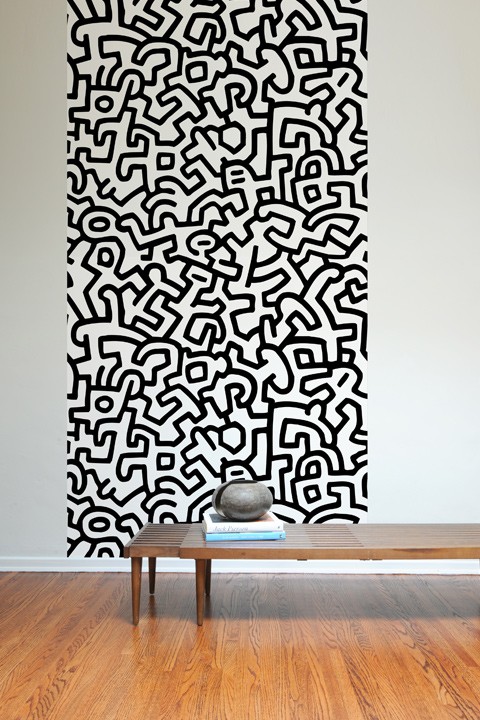 Keith Haring Wall Sticker from Blik. $50.
I love me some Keith Haring, so naturally I want to put these large-scale wall decals all over my body. And my apartment.
Fishwall Stickers from Blik. $45.
For a kookie splash of color, these fish-scale inspired tiles do the trick. I don't think I'd do a whole gigantic room in them, but a small room, a door, or another architectural detail could be cool.
Keith Haring Wall Stickers from Blik. $35.
Who doesn't want little Keith Haring dudes dancing all over his house? Fun!
Chalkboard Calendar from Ferm Living. $100.
This is really practical and pretty for an office, but would probably be totally weird anywhere else.
Branch Wallsticker from Ferm Living. $110.
We used this one on the show (shown below) and it looked totally amazing. They no longer make it in that metallic gold color which is a shame but the black is beautiful too.
One note about wall stickers is that they are often dependent on a cool space. Just sticking one in the middle of the wall might be weird, but if you have a cool alcove or moulding that separates a space, it can be a great opportunity for a beautiful moment on the wall.
Custom Wall Sticker from Murals Your Way. Starting at $240.
Martha Stewart featured this idea a while back. I'm actually kind of surprised at how cool it looks because a lot of full-color decals look cheesy. But if you have a great source image you can make a beautiful wall decal.
Damien Hirst-Inspired Wall Dots from Blik. $40.
One way to make sure your wall stickers don't look low-brow is to have them reference a famous work of art like these Hirst-inspired wall dots. They are playful, yet somehow still sophisticated.
Also playful and sophisticated are the original Hirst paintings.
Ten Pattern Wall Tiles by Threadless for Blick. $45.
For renters who can't do wallpaper, these luxurious wall tiles provide pattern and excitement.
Psychedelic Garden Wall Tiles from Blik. $45.
I'm loving these floral wall tiles for a ladybedroom.
In The Belly Of The Beast Wall Sticker from Blik. $40.
This dying whale is kind of depressing, but I'm still attracted to it. Seems like it would be perfect for a kids room. Perfect for the goth kid who hates everyone.
Pine Tree Wall Sticker from Ferm Living. $55. 
The simplicity and elegance of the pine branch is what makes this one nice. Sometimes wall decals get a little bit too complicated/literal which makes them lame.
So there you go, walls. You no longer have sit naked, waiting for uber-expensive art to cover you up. Go out there and get some wall decals to cover your indecent self!
Love,
Orlando