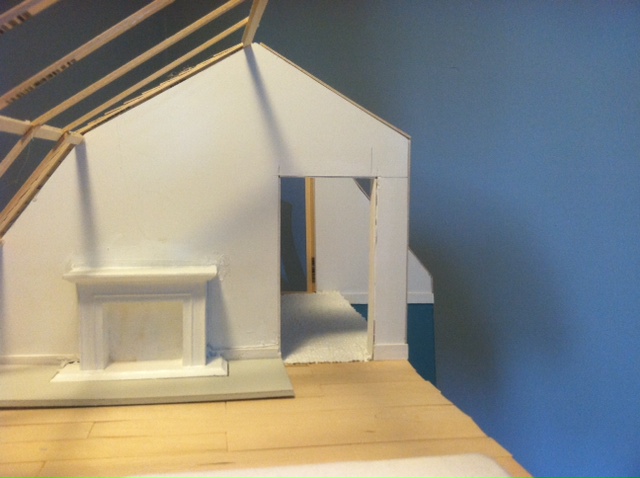 Dear Dollhouse,
We've had a tumultuous relationship. At first, I loved you hard. I worked so dilligently on you and was so excited to see you. Now, I fall into the fetal position an start crying every time I hear the word "Dollhouse." I'm not saying that working on the dollhouse isn't the funnest thing I've ever done in my whole entire life, I'm just saying that my life is devoid of the kind of "free time" that would be conducive to contributing the necessary time to my beloved dollhouse. Anyway, I have made a bit of progress with the help of a friend. Here it is…
I changed the color of the fireplace in the master bedroom to white and added a concrete hearth to add some warmth. The "concrete," like everything else in the house, is made from foamcore.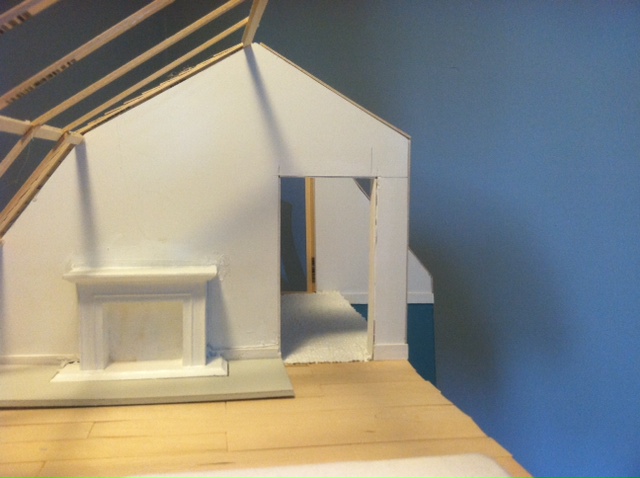 I found these chairs at CB2. They're Christmas ornaments that I bought on sale for $0.95. Not bad for dollhouse furniture, which often costs as much as normal furniture (exaggeration).
The structure of the back of the home is coming along nicely.
The concept for the roof is that it's falling in and rotting away, allowing for plenty of skylights. The majority of the master bedroom will have a glass ceiling (insert joke about women in the workplace).
I stained the outside of the barn to make it look old and distressed. I used diluted acrylic paint. I'm pleased with the results and cant wait to stain more.
A fun fact about me is that I love staining things to make them look darker and richer. And by "staining" I mean "drenching in self-tanner." And by "things" I mean my skin. And by "darker and richer" I mean "tan and gorgeous." I'm scared.
My architect/friend designed this bed for me. It needs some bedding but I'm liking its simple modern lines.
I love the way the light falls through the back of the house. The beams will eventually be painted white from the inside and stained to look old and distressed from the outside.
This is the beginnings of a sofa. Just made out of wood, glue, and stain.
It's based on this piece from episode 3 of Secrets From A Stylist.
These are some more $0.95 chairs from CB2. They need some baby cushions but I love them.
This is a the view from outside the floor length windows in the dining room. I have a fetish for huge windows.
And aerial view of the barn.
So that's where I am right now in dollhouse world. I'm going to try and get a bit done this week and then have a major Oscar pre-party where I trick my friends into helping me by bribing them with alcohol. Yay!
Love,
Orlando