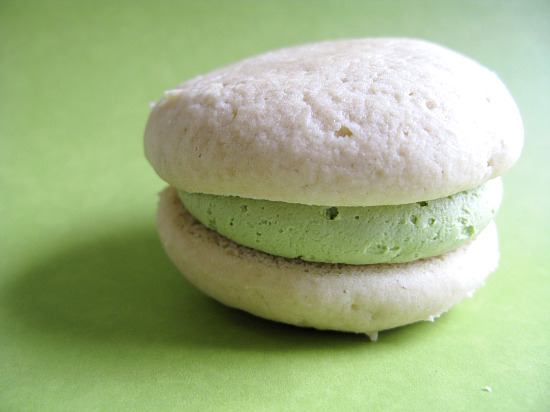 By Contributing Food Editor Jared Levan

Dear Pennsylvania,
On behalf of everyone (save the residents of Maine and Massachusetts…look it up) I'd like to thank you for contributing the most delightful sweet treat of my childhood years–the whoopie pie. Rumor has it that Amish women living in Lancaster, PA would make whoopie pies and sneak them into their husband's lunch pails prepared for a day of work in the fields.
When the unsuspecting men, famished from a morning of hard labor, opened their lunches they'd be thrilled at the sight of these sweet, fluffy little goodies to which they would exclaim–WHOOPIE!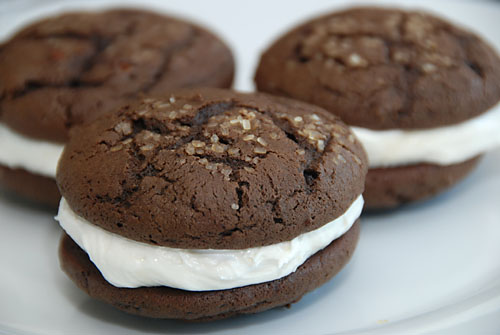 Photo by Diane of Stylish Cuisine
Despite the pseudo-political controversy this little guy stirred up last year, I'm here to pay homage to the whoopie pie and my mother's go-to recipe. Every year, on my birthday, my mother would whip up a batch and bring them for my elementary school classmates and me to enjoy. It was the best birthday treat a little Pennsylvanian boy could have asked for!
"Happy Birthday" Whoopie Pies
by Robin Levan
2 Cups sugar
1 Cup Crisco/vegetable shortening
2 Eggs
1 Cup whole milk + 1 Tbsp vinegar or lemon juice
2 tsp vanilla extract
1 Cup cocoa
4 ½ Cups flour
2 tsp baking soda + 6 oz. HOT water
Preheat oven to 400 degrees (F).
Cream sugar and shortening at high speed until fluffy. Beat in eggs, one at a time. Combine milk and vinegar. Add curdled-milk mixture, vanilla, cocoa and flour to egg mixture and beat to combine. Mix baking soda and water. Add and beat to combine.
Drop to desired size on ungreased cookie sheet. Bake 8-9 minutes. Remove and cool to room temperature.
For the filling…
2 Egg whites (beaten)
2 Tbsp flour
1 Lb Confectioners sugar
2 Tbsp whole milk
2 tsp vanilla extract
1 Cup Crisco/vegetable shortening
Combine beaten egg whites, flour, milk, vanilla and ½ sugar. Beat until creamy. Add shortening and the remaining sugar. Mix well. Spread between two, cooled cookies.
Vanilla & Green Tea Whoopie Pies…Whoopie pies come in all flavors and sizes, but I had to share this gorgeous picture and accompanying recipe.
The next time you spot one of these tiny treats or decide to make them at home from scratch, you might consider exclaiming "whoopie" yourself!
Love,
Jared