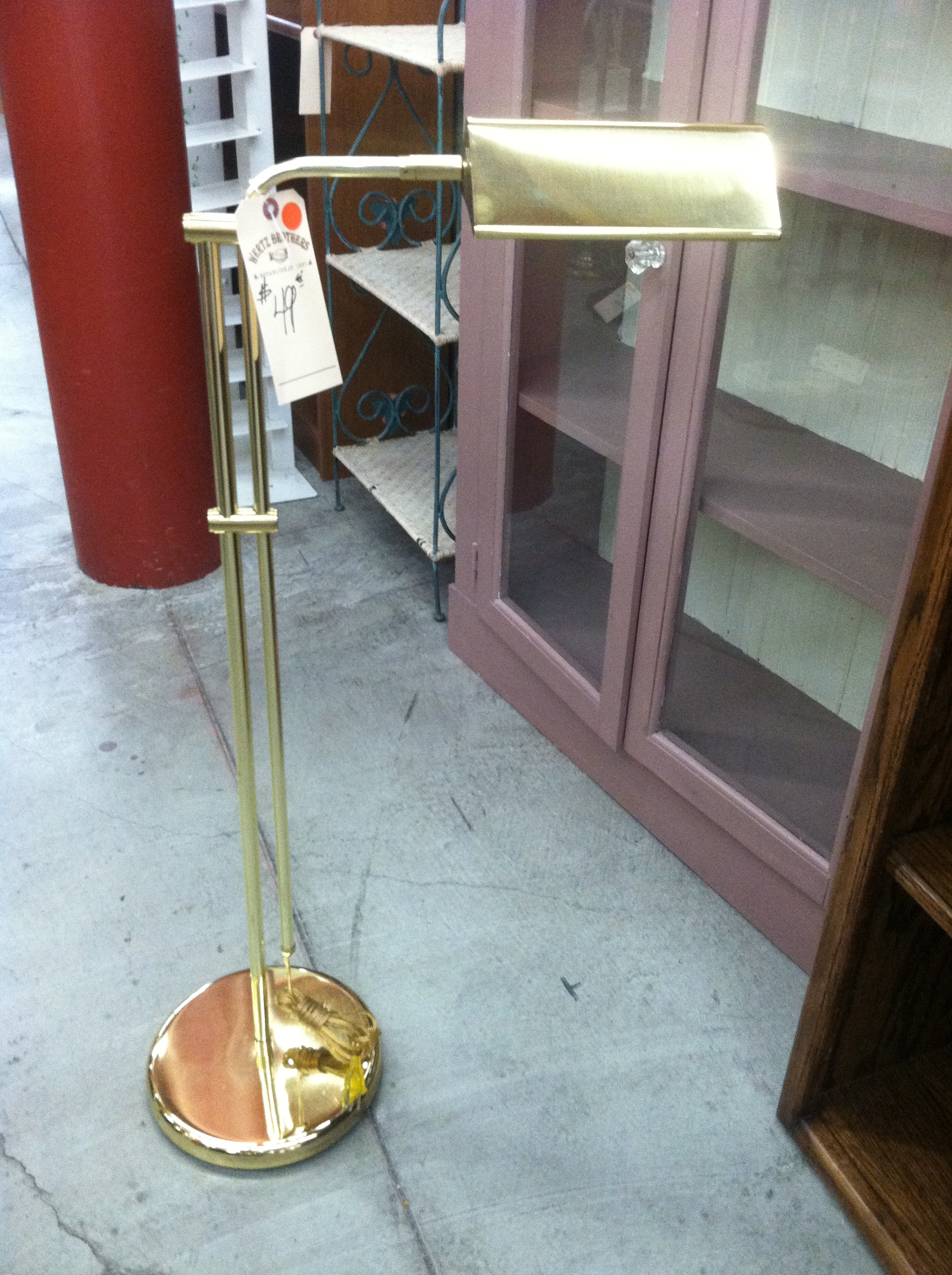 Dear Emily,
Well it certainly was a fun and exciting holiday season this year. It was the best of times, it was the best of time, but thank goodness it's over. I mean, REALLY. We have so much to do it's not even funny. And by "so much to do" I mean so much to buy.
One of our clients is really into gold and brass. In fact, Emily and I spent three days in her house going crazy with gold accessories, gold spray paint, and gold leafing. I have a secret desire to paint every single thing in my apartment gold (down to my toothbrush). It's an addiction. Spray painting something gold makes it automatically more exciting. Try it. If your husband is sitting next to you, paint him gold and watch how sexy he becomes (yum!). It's just a scientific fact that gold things are way more attractive than non-gold things. I need to calm down. But I can't.
Ok, so I found this cute little brass lamp at Wertz Brothers (one of our fave resources for vintage furniture). Nothing too special but a good deal at $49 because they're usually around $250 if they're good. And they look very handsome next to a reading chair. Just like me.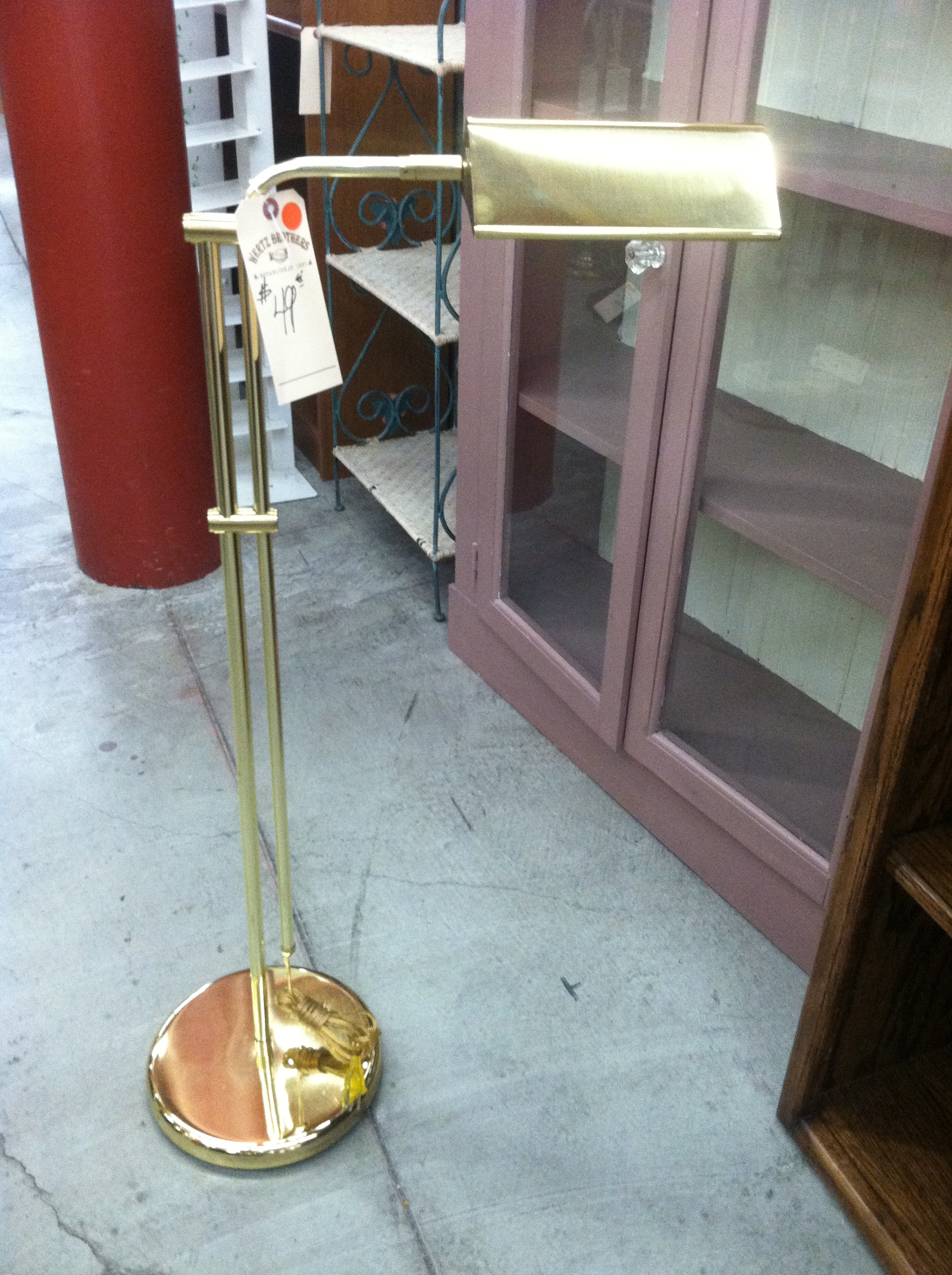 I can't tell what I think of this one. I think it's either disgusting or awesome, which probably means it's cool beyond comprehension. It's also $29. Whut-WHUT?
I liked this for one of our clients who needs a new filing cabinet. It's totally functional even though it has so much age and character to it. Like your mom. $195.
Trunks are kind of like benches, you can never have too many of them because they fill awkward empty spaces so nicely and are a nice place to put thing (like tea kettles and copies of your various restraining orders). $199.
There were a few cute mid-century desks. I like this one but not as much as another one below.
I like these turned legs. I feel like this would be a cute desk for a lady if it were spray lacquered white. $499.
This was the desk I liked. The asymmetry really says something to me. It says, "Hey Orlando! I'm me, and even though I'm not symmetrical, I'm a delight! Come sit and write The Great American Novel!" $499.
I never knew I had a thing for drums, but apparently I do. This one is humongo. 3′ wide. Well I guess that doesn't sound so humongous. But, it's pretty big for a drum. I kind of want it was a coffee table or a large side table. $349.
Pretty classic chrome nesting tables. $199.
I feel like this disgusting sofa would be totallyhot reupholstered. And [GASP!] it has brass legs! $399.
This chaise is ugly and looks like a whale, but if we took off the skirt and made the cushion slightly less inflated, it would be good for our French country client. That plumpness of the cushion reminds me of how I felt after Christmas dinner and for most of my teens. Blub. $795.
This DISGUSTING find is from Goodwill. It was $99. But get this, it's a sleeper! And guess who has been looking for a sleeper for, like, ever? ME! So I'm the proud new owner of a revolting sofa! I literally made barfing noises for three minutes when I saw it because it was so dirty and disgusting. But don't worry, it's at the upholsterer right now getting new foam, new down filling, a new mattress, and then being covered in uberglamorous peacock blue velvet. Purr!
This is from Ikea. $299 and not bad, right?
How cute is this wicker chair from Ikea? Emily is much more of a wicker hoarder than me, but even I think this is cool. And it's new, ready made, and $119. 
This is also from Ikea. Another sleeper.  The secret about most sleepers is that they are totally ugly and gross, so when you find one that's not bad it's kind of exciting. We've been looking all over and they're either 5 million dollars or they look like gargoyles inside of the Michelin Man inside of a hot air balloon. Uglez McGee. This one is $849.
This we found on Craigslist for a happy client. $500, super comfy.
I'm kind of obsessed with these chairs from CB2. I want them to go with my new sofabed. They're kinda steep for CB2 ($399), but they're way sturdier than most versions of this chair and the leather is a good color. Gimme.
I think this CB2 pendant is cute too. $249.
And I can't tell if I love this one or if I just love that it's brass. $179.
And finally, both of us liked this white sconce from West Elm. It's cute and basic. Why not!?! And it's $79. HOW?
So yeah, that's what we've been shopping for. Pretty exciting, huh? Everybody calm down!
Love,
Orlando