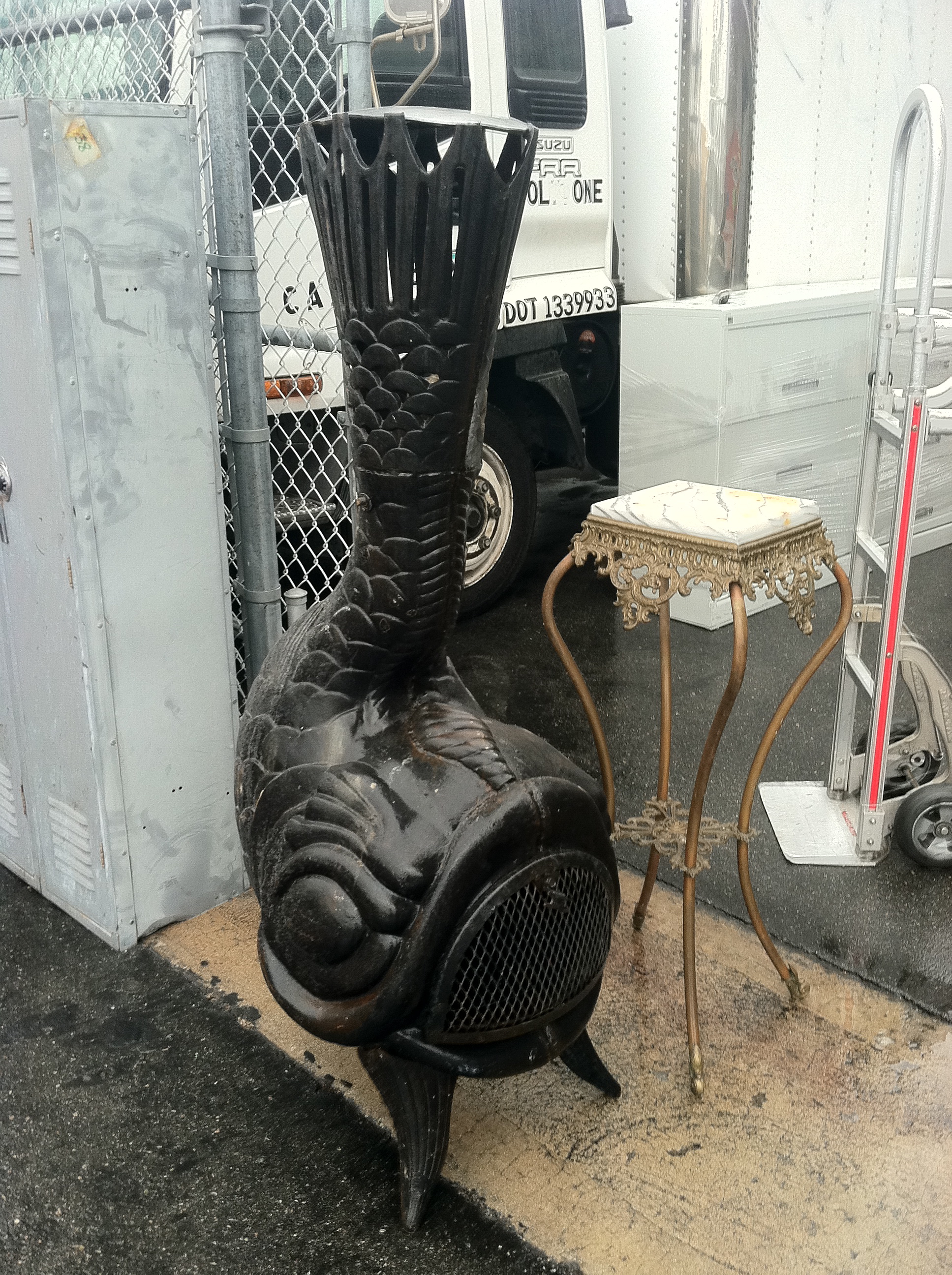 Dear Emily,
Remember last weekend when we went to the Long Beach Antique Market and it was, like, the worst experience of our whole lives? Well, it was raining, which was a bad sign, but we went anyway. As we were arriving (later than normal due to both of us oversleeping), all the vendors were rushing to put their stuff away, running away from us in terror like we were zombies coming for their flesh. For those of you who don't live in Southern California, it should be noted that people here respond to rain as if it were the worst natural disaster in the world. I don't personally own an umbrella or any other gear that would protect me from rain. So when it rains it kind of ruins the world. And flea markets. Thus, Emily and I pretty much started crying and whining as soon as we got to Long Beach. I was unconsolable. Until Emily slapped me and told me we better get shopping before all the stuff was packed up and taken away. We frantically ran from vendor to vendor in search of deals. Despite the life ruining weather, we found some scores.
I kind of like these stupid mannequins. I would.
We liked this bench for one of our clients but it's SO LONG!
I liked this outdoor fire pit thing. If I were a lady I would put this in my ladygarden. That wasn't meant to sound dirty but it kind of did. Sorrlz.
We bought the blue bench for a client. $100.
Look at this leather bag! We bought it for a client for $40!
We almost bought this for a French Industrial client, but it was $400 and there wasn't a good place for it in her house.
Whenever Emily sees brass, her eyes turn into spirals and she walks straight to it like a zombie. These bookends were $20. We didn't buy them because we were depressed about the rain.
Emily: "Should we get this?" Me: "Sure." Emily: "I'm bored."
GOLD CHEST! GOLD CHEST! $100.
We bought this trunk for the end of a client's enormous bed. $100.
We almost bought this for a client's playtable. But it's kinda boring and would probably benefit from being spray lacquered white, which would make it too expensive for their budget. $120.
Because it was raining, we ran away from the flea market almost as fast as all the vendors. We fled to the antique mall in Pasadena, where luckily they were serving hot apple cider and cookies. Which made us feel better because sometimes we like to eat our feelings. We saw a few cool things there, too.
Look at this cool architectural model! It would be a supes fun coffee table.
Emily: "I don't like black leather, but I love this chair!" Me: "I'm bored."
I like this painting at the Pasadena antique mall. It's $125 though so I might just make a knock off myself. I am a terrible person.
We liked this bench for our modern-pop clients but then Emily sat on it and it almost broke. Emily weighs 17 lbs. Dealbreaker.
We like this table for our French industrial client but it was too big.
Look at this ridiculous hat/box situation! I mean, the beautiful handmade hat comes in a beautiful handmade box. SO much work! But so neato!
Me: "Look at that awesome armoire!" Emily: <cricket noises>
This trunk is stupid. I don't know why I took a picture of it. I'm an idiot.
We like this Paris map but it's $250. Conundrums.
This little drum is cute. And so are you. $150
This makes me want to kidnap Angela Lansbury and lock her in a room, forcing her to write about mysterious events like she did on 'Murder She Wrote.'
We like this chair but it's arms fell off. Oops! $250.
I know what I'm getting Emily for Christmas…
This Moroccan chest was $400. Not too bad…
We've looked at this painting many times, but never buy it because it's tiny and $175.
Look, a trumpet horn thingy! Or whatever. $100. (We didn't buy it).
These vintage 3D maps were a bit steep at $250, but we both loved them deeply.
Finally, because we could not stop shopping, we wandered around Old Town Pasadena. This is a rug we're looking at for a client. It a pretty great value. It's $299 for an 8′ x 10′! From Crate & Barrel.
At the end of the day we actually got a lot done. We were devastated by how lame the rained out flea market was, but a glamorous secret lunch in Pasadena followed by some good antique mall time made up for it. Thank goodness.
Love,
Orlando