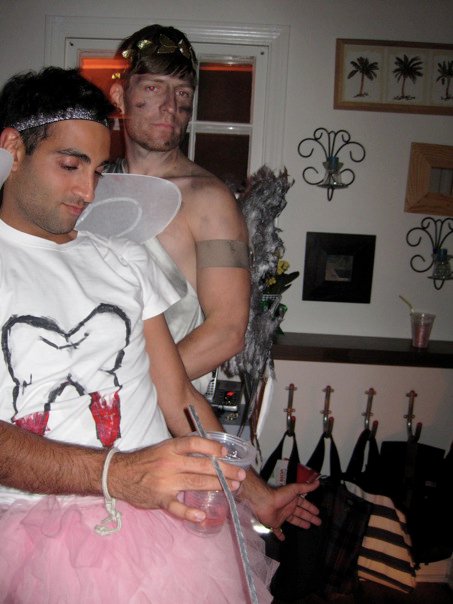 Dear Halloween,
Let me preface this by saying that I love you and that you have given me some of the best memories of my whole entire life. I grew up in a neighborhood where it wasn't weird to trick-or-treat until you were 18 years old (which I did) and I always had the best time ever. But Halloween, you get more high maintenance every year. Mainly, it's the costume thing. There's so much pressure to think of something topical and clever. But not too clever, otherwise no one will get it and you'll feel like a pretentious jerk.
Last year, I dressed as Icarus. Which was fine, but a lot of people thought I was a "fallen angel." Which would have been the lamest thing in the world to dress up as (no offense to fallen angels out there).
The year before last I was a hobo. It's kind of the closest thing to what I would dress like if I could wear whatever I wanted without being socially ostracized so it was kind of my favorite costume ever.
That year I did a group costume (from the awesome film Drop Dead Gorgeous) that you basically have to watch a whole long youtube clip to understand. Which is fine as you read this blog now but try explaining it to some old lady on the street when the rest of your dumb group gets lost.
Here's the Drop Dead Gorgeous trailer that will help you understand the costume:
I'm pretty sure this was two years ago too. We're space travelers or something. I mean, here I am dressed up in a costume and I don't even get it. Group costumes can get tricky, especially if you were out of town just before Halloween and you then you just show up and put on a costume you don't fully comprehend.
This costume from 2007 was pretty awesome. Except I was pretty much naked. And it gets chilly here in LA once the sun goes down (I'm the giraffe). Also, may I just tell you NEVER to wear brown body paint. EVER. Especially if you're going to a party at a pristine, fancy, all-white house. "I didn't do it!"
That year I also went as George Michael from Wham. I wore this costume a few times and I think this time I got lazy because I'm missing the beard and the sunglasses. Too much Halloween perhaps…
Anyway, I can't think of any ideas for what to be this year. And if I don't think of something awesome my life will be over. I HATE YOU HALLOWEEN!
Love,
Orlando