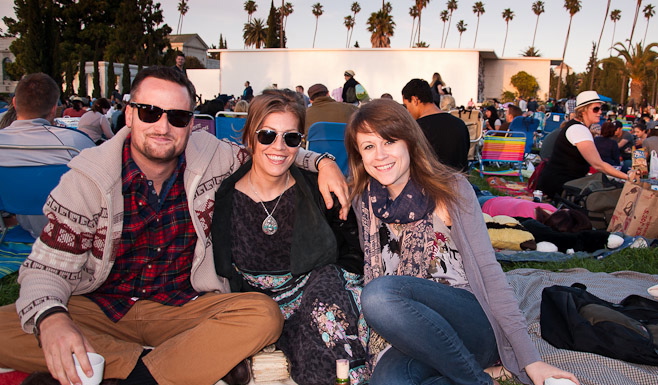 Dear Cinespia,
Why did you have to leave me? It's too soon. Oh how I loved ye… For those of you who don't know, Cinespia is a seasonal film series that plays each weekend over the romantic summer months in Los Angeles. What sets it apart from other film series is that it takes place in the beautiful Hollywood Forever Cemetery. This year, Cinespia celebrated its 10th year and played a bunch of classic crowd pleasers. The final screening of the season was ET, which, like Oprah, everyone is morally obligated to love. These film screenings are see-and-be-seen events, filled to the brim with creative clothing and ugly sweaters. Everyone who attends dresses like it's 1991 and they are getting ready to audition for the original 90210. It's pretty much my dream world.
All photos by Cinespia's adorable photographer Kelly Lee Barrett. 
I can't believe this picture was taken this year. There is nothing current about these lovely looks. Radical.
I like this dude's sweater.
Oh, to be these people. So aloof and thin. I hate my life.
Left to right: Perm? Check! Fun colorful t-shirt? Check! Hairband? Check! I love these people.
Not sure what I like more, those awesome hats or that lovely patterned blouse. Totally gorgeous girls.
Who let these bozos in? (My shirt is totally unbuttoned! Loser).
I like that guy's red sweater. And by "red sweater" I mean face.
I'm scared of these people. And that makes me happy.
These cuties were in front of us in line. I knew I loved them when I saw her awesome stonewashed denim jacket.
Naturally, Drew Barrymore introduced the movie. People in Los Angeles get annoyed when they go to a movie and it isn't introduced by a celebrity.
I'm pretty sure Drew Barrymore is the cutest person in the world. If I were to kidnap any celeb and keep it in a cage so that I could stare at it forever and make it tell me jokes, that celebrity would be Drew Barrymore.
This is how the films are shown, projected onto the side of a mausoleum.
How fun is this girl? I want a glowing hula hoop!
These kids totally escaped from a Hedi Slimane fashion shoot. Their life is more fun than yours.
The moral of the story is that if you go to Cinespia, you better bring your fashion. Because no one actually goes to watch the movie. They go to watch your outfit. Which is really how it should be.
Love,
Orlando