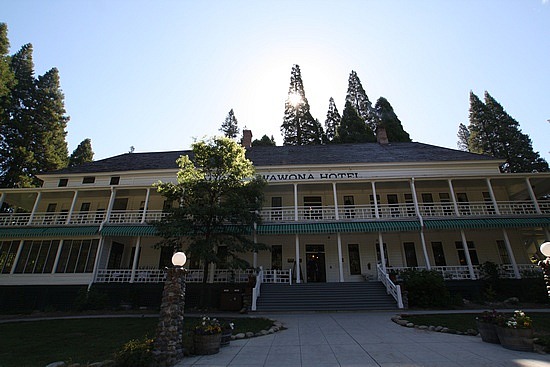 Dear Design-Loving Woodswomen and Woodsmen,
I'm sure all of you have heard of Yosemite National Park. It's one of America's treasures and was the first natural space set aside for protection by the U.S. government. It's also my hometown. What most people don't know about Yosemite is that people live there. There are about 1000 residents who live within the park boundaries. I lived there because my mom runs the little grammar school there and my father is the park's dentist (because no matter where you are, you should never neglect your oral health!). As you can imagine, growing up there gave me a great appreciation for the outdoors. It also gave me a great appreciation for rustic woodland designs. I never really thought about my hometown from a design standpoint until recently, when I noticed I have an attraction to natural materials, cabins, and 60s architecture. In my fantasy life, I run away from the city and move into a rustic cabin in the woods with my husband, a gorgeous blond lumberjack with a lisp (named Sven). But enough about my future, let's take an architectural tour of Yosemite!
The Park Service crest (at the top of this sign) is one of my favorite logos in the world. It's so basic and classic. I used to pass this entrance sign on the way to and from high school every day (high school was located outside the park in Mariposa, California). The park has a lot of carved wooden signs, which I love for their dimensionality and tactile quality.
I am also obsessed with the signage at my grammar school, The Yosemite School. How adorable is that typeface?
The school was rebuilt in the mid 50s, so it has a wonderful mid-century vibe.
This is the Ansel Adams Gallery. Located on the "Village Mall" in the most touristy/congested part of the park, this is where I spent my high school summers earning money to squander on clothes and vegan cookies.
This is Camp Curry. Basically one of the park's first lodging options where still can go and stay in a cabin. You too can live like a Steinbeckian hobo for only $105 a night!
This is the awesome Camp Curry sign. I want one of these for my house someday. Woodland glamour at its best.
These are tent cabins. Some of them are for park guests. Some of them are for local employees (during the warmer summer months). I've never been inside one but I'd definitely want one for a guest house when I move into my cabin in the woods.
The Yosemite Museum. The use of stone on lower portions of buildings is one of my favorite things about Yosemite's lovely old buildings.
The Laconte Memorial. My friends and I used to play in the woods around here. I always imagined a witch lived inside. I was totally disappointed when I grew up and found out no one lived inside and it was a memorial dedicated to some naturalist or whatever. Boring! Just kidding. Kind of.
The gorgeous Titanic-era Wawona Hotel. One of my pretty aunties was married there. This hotel is the reason I thought Winona Ryder was named Wawona Ryder until I was 20. See also: Wawona Judd.
Ostrander ski hut. You have to cross-country ski or snowshoe 10 miles to get there. One time on the way down the hill from the hut I got lost and had to ski 16 extra miles. I was so late my father thought I had died but it was totally worth it because I looked totally skinny the next day.
This is the Rangers Club. I actually have no idea what it is because I've never been inside but I've always thought it was a cool old building. I imagine it's just a place for park rangers to hang out and talk about their feelings whilst drinking hot toddys.
This is the Ahwahnee hotel. Think of this as our version of Eloise's Plaza Hotel. When I was young, my friends and I used to run all over this hotel, lying to its wealthy guests and telling them we were homeless. We traumatized them and ruined their vacations, but it was so much fun for us!
I love this aerial view of the sprawling Ahwahnee grounds.
This is the Mountain Room at Yosemite Lodge. How pretty are those huge windows? This restaurant is the best/only place to eat in Yosemite.
The Village Store. This is both a grocery store and a gift shop. Total 60s glamour. I worked here when I was 14 and spent days at a time folding cheesy tourist t-shirts and rearranging the gift items so that tourists could throw them on the floor and spill soda all over them. Thus, I contracted OCD and learned to fold t-shirts perfectly.
Finally, my parents house. I wish I had a better picture of the exterior (if you look hard you can see Yosemite Falls to the right of that huge pine tree). You can see a few interior shots here.
Oh wait, here's a picture of the house from the 80s. As you can see it looks like a log cabin. My neighborhood is mostly homes like mine (built in the 20s). Basically log cabins with a slight arts and crafts influence. There are also some cute 1960s houses with sloped roofs. Unfortunately, the Park Service has chosen to paint them all a terrible brown color with orange trim. Supposedly this is to camouflage them from airplanes that travel overhead. A fun fact about living in a national park like Yosemite is that you cannot own your home. All residents of Yosemite Village rent because the houses are located on federally-owned land. Since the homes are all historical structures, residents aren't allowed to make permanent changes or do anything to the exterior of the home. It's essentially like growing up on the grounds of huge resort.
Oh yeah, and here's the back yard.
And you can't have an architectural tour of Yosemite without mentioning the most important architectural feature in the park, our gorgeous granite cliffs. Here is the street sign for the road I grew up on.
Thus concludes my architectural tour of my hometown. I hope it has inspired you to buy a cabin and move in next door to Sven and me.
Love,
Orlando