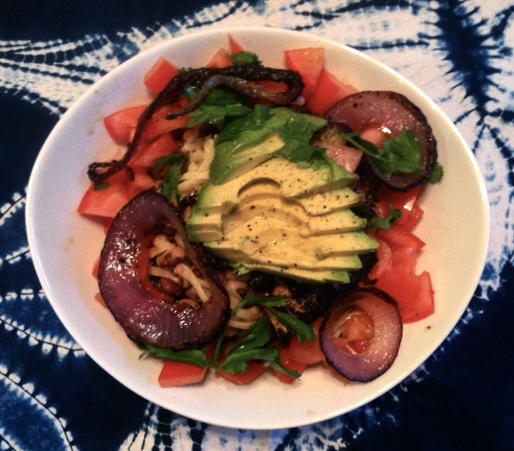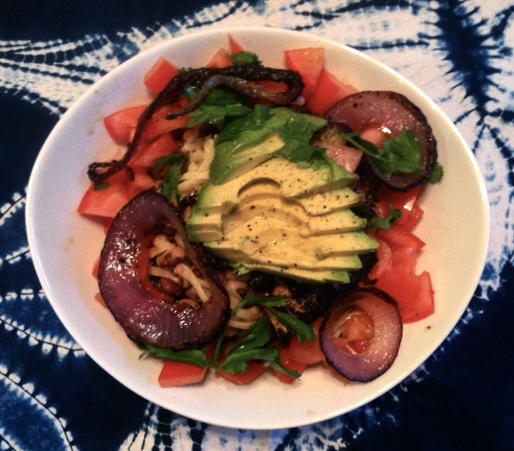 Dear Diary,
I don't know why more meals aren't served from bowls. Really, eating things out of bowls is so much more comforting than on a cold, commonplace plate. Last summer I discovered beanbowls. I know this sounds like hobo-food, but if you use the right (fresh) ingredients this can be a delectable dish.
Recipe (serves 1, multiply by number of guests):
1 cup cooked quinoa
1 cup freshly cooked pinto beans
1 cup freshly cooked black-eyed peas
1/4 cup grated cheese (Monterey jack or mozzarella)
1 1/2 cups heirloom tomato, chopped
1/2 avocado, thinly sliced
cilantro, sprinkle as garnish
From the grill:
1 cup zucchini, sliced into strips
red onions, use as garnish
Follow directions on dry quinoa, pinto beans, and black-eyed peas to prepare your fresh ingredients. Brush zucchini with olive oil and spice with salt and pepper. Grill until floppy, then cut into bit size pieces. When quinoa and beans are ready, create a bed of quinoa and layer the pinto beans and black-eyed peas on top. Add cheese, tomato, avocado, zucchini, and red onions. Garnish with cilantro and sprinkle with pepper.
*Please note: the trick to making this really delicious and gourmet is using freshly cooked ingredients, including beans and black-eyed peas cooked from their dry state. If you're in a hurry, you can use canned beans and peas, but don't blame me if it tastes less-than-gourmet. Also, if you don't have a grill you can sauté the zucchini and onions for an equally delicious result.
*Please also note: Ever notice how hard it is to take a picture of food and make it look yummy? I have. This is why my picture above looks so yucky, and why there is a whole industry of food stylists that use special tricks (mainly white glue and wax food) to make meals look delicious. I couldn't afford a food stylist, so please excuse my terrible photo.
I hope you enjoy your beanbowl.
Love,
Orlando