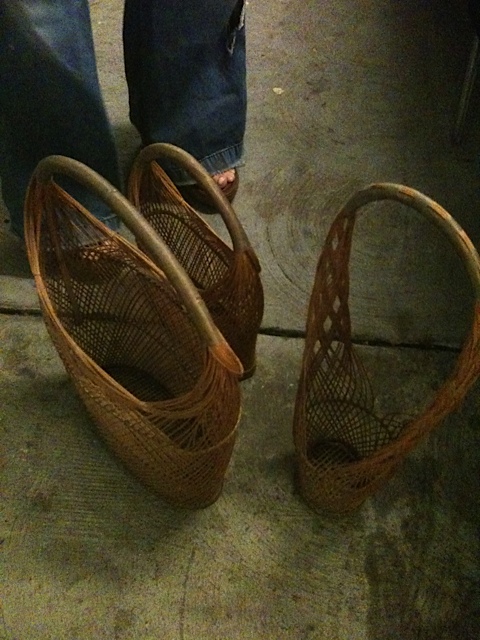 Dear Reader,
Part of my job as Emily's assistant on Secrets From A Stylist is to help her shop. And here's a (non) secret: she loves vintage! Where do we find all this glamourous, story-filled vintage furniture and accessories? That's right, the flea market. Every Sunday, we go to whatever flea market is happening. If you're not sure which is coming up, I find this guide to be quite helpful. Anyway, because Emily hates the idea of anyone snagging a great piece before she can, she shows up at 6 AM. I usually show up after her but I can just picture her clinging to the gates, eager to get in. Since she is such a nice boss, she lets me sleep in before I show up to put in my two cents and carry giant sofas over my head. It's always a great time and we are always exhausted by the day's end. All worth it to snag the goodies that make our show so unique. Okay, so enough with the explaining and jibber-jabber, here's what we saw this week at Pasadena City College.
Here is Emily being adorable next to some mid-century rope chairs. This is totally my thing. Something I've learned from Emily as she constantly style diagnoses me is that I love any chair that is A) woven and B) mid-century. A combo of the both is, like, the best. And here's the best part: the pair cost $100. Totally ridic, right?
You may have noticed we use a ton of books on the show. To be honest, we still haven't found a source that's ideal for cheap big books but we tend to spend $1 on regular books and $5-$40 for larger tabletop art books. Another great source we've found for books is Counterpoint Books in Franklin Village. If you're searching for quality used books on fascinating topics, they are great. But if you're trying to fill a shelf for a glamorous makeover TV show, they also have a good bargain books section. The books we got here were all around $10. Not too shabby.
Emily found this crazy bird sculpture. Totally wacko and 70s, thus awesome. $25.
I love these baskets and curious how Emily will choose to style them. She normally hates things that look too similar bunched together, but I feel like these seem unique enough to stand together as a collection without looking too much like  a set from a big box store. They were $75 for all three.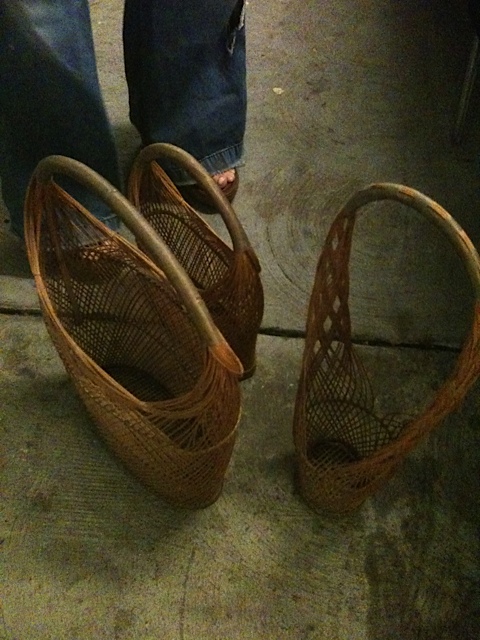 So, this is a slightly bad picture but we found this old coffee table that we're going to make into a tufted bench for an upcoming episode. We have a totally amazing upholsterer so I can't wait to see how it turns out. It's totally over the top, but I love any piece of furniture that has feet. Someday, I dream of bathing in one of those glamourous claw-footed bathtubs. It cost $100 and we'll spend a few hundred getting a cushion built, but it's going to be a total conversation piece so it's still a huge bargain.
Emily spotted this great pottery. I love the shape. And the price (I think it was $5).
We are always on the lookout for unique/bizarre art, so this can collection was particularly exciting. $100.
A pretty brass chandelier for $250. A total steal for something with so much character and presence.
I'm kind of obsessed with this brass alligator. It's little jaw cracks open and closed (I have no idea why, it doesn't seem like it would work as a nutcracker). Sidenote: we have a new cataloguing system for purchases intended for the show so we've been having fun posing with our new friends, whether they be pottery, sculptures, or chairs. $12.50 was the listed price, but we got it for $10. Never hurts to ask for a few bucks off.
This lamp is totally exciting and great. It's about five feet tall and if I were a totally rad hippie lady living in Laurel Canyon, listening to Joni Mitchell in my 70's-inspired home, I'd want it for myself. $50 because we bought it with the claw-footed bench. Vendors are much more likely to give discounts if you buy multiple items.
I wasn't there when Emily found these but they might be my favorite find of the week because they're so out of control. I want to steal them and put them by my front door to scare away burglars. $100 for the pair.
This gross owl was used for the show's style diagnostic. I'm kind of into how revolting it is. Emily is so good at spotting the crazy stuff. $5.
I like that this painting has totally chaotic color and yet somehow still seems calm. $20.
This lamp is fun, right? We're going to change the shade obviously, just to update it. We're considering covering it in a pretty linen, just to experiment with recovering shades (Fun Fact: I secretly want to learn how to make lampshades, mainly because buying new ones is so expensive). $60.
Here I am with a great big pot we found. It was totally filthy but worth every bit of grime that got all over me while I was transporting it back to storage. $50.
OK, I lied before. This was my favorite find of the day. I don't know why I like it so much. Probably because the Kennedys make me laugh and it looks like they're rubbing their cheeks together. Brilliant. $10.
Always a good time, that flea market! Back next week with more tales from Pasadena (this Sunday is the mother of all fleas: ROSE BOWL!!!).
Love,
Orlando